The Best Small Shops competition celebrates, not only the commitment and creativity of entrepreneurial independent retailers on the UK's High Streets but also, the central role independent retailers play in their local communities.
The retail landscape is constantly evolving, giving independent retailers the opportunity to be the marketspace in a unique way, offering customers specialist knowledge, products and customer service. The Best Small Shops competition gives us the chance to celebrate this unique industry and show consumers what makes these small shops just so special.

The Best Small Shops competition is in association with Maybe* - Social media engagement and insight tools that help you deliver results.

The Best Small Shops competition 2020 - new award category
The Best Small Shops Competition, back for its fifth year, has relaunched post lockdown celebrating the return of Indie Retail to UK high streets and shopping parades.
This year's competition has been revised to better reflect the current retail climate. Judges will be seeking entries from independent retailers that are demonstrating specific innovation to combat the impact of COVID-19 in a new award category sponsored by booost, the loyalty, gifting and promotions app.
The judges will be looking for evidence of:
Specific innovation to combat the impact of COVID-19
Safety of staff and customers was maintained
How the business diversified to maintain trading
If the shop was enfroced to close what strategies were adopted to continue trading
Plans put in place to retain communications with the local community
Initiatives to reach a new customer base
Take a look at competition entry guidance here.
Entries for all award categories in this year's competition close on September 11th 2020. Click on the button below to enter your business and be in for a chance to be crowned Best Small Shop of 2020!
Enter the Best Small Shops competition now
Meet the Innovators
"Independents have a uniquely open and giving support structure almost hardwired in their DNA - that's what makes us special."- Adam Jacobs of Jacobs the Jewellers.
Our 'Meet the Innovators' series highlights some of the small shops that overcame adversity in the form of the COVID-19 crisis and did something special during this difficult time from a variety of sectors.
Meet the COVID-19 Innovators now
The new COVID-19 Innovation category is sponsored by booost, the loyalty, gifting and promotions app.


Who can enter?
To enter the competition shops needed to:
Be an independent retailer, defined as a non-corporate business selling goods or services to the
public for use or consumption rather than for resale, from a business rated, bricks and mortar premises in the UK

To have a listing on the Indie Retail directory. If you don't already have a listing you can create one for free here
Please note: Each Competition entry is for one retail outlet only e.g. not a chain of outlets. Only one entry is allowed per business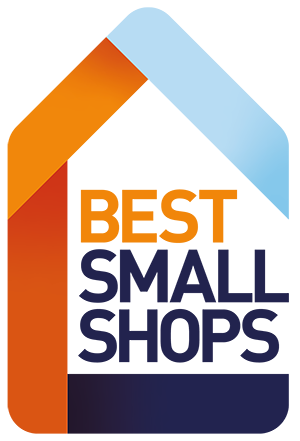 What happens after I have entered?
Once you've submitted your entry you'll be able to download the Best Small Shops logo to display on your website. The logo will link directly back to you shop listing on this site.
Every business who enters the competition will be displayed on the Indie Retail directory raising customer awareness throughout the UK.

When posting on Facebook, Instagram and Twitter ensure you tag Indie Retail and use the hashtag #BestSmallShops for a chance to get reposted!
Enter the Best Small Shops competition now
Click here for competition terms and conditions.
Previous awards receptions
Click on the links below to read more about previous awards receptions.
More details can be found on the Indie Retail Twitter, Facebook and Instagram pages.