The Best Small Shops competition celebrates, not only the commitment and creativity of entrepreneurial independent retailers on the UK's High Streets but also, the central role independent retailers play in their local communities.
The retail landscape is constantly evolving, giving independent retailers the opportunity to be the marketspace in a unique way, offering customers specialist knowledge, products and customer service. The Best Small Shops competition gives us the chance to celebrate this unique industry and show consumers what makes these small shops just so special.

The Best Small Shops competition is in association with Maybe* - Social media engagement and insight tools that help you deliver results.
The Best Small Shops competition 2020 - new award category
The Best Small Shops Competition, back for its fifth year, has relaunched post lockdown celebrating the return of Indie Retail to UK high streets and shopping parades.
This year's competition has been revised to better reflect the current retail climate. Judges will be seeking entries from independent retailers that are demonstrating specific innovation to combat the impact of COVID-19 in a new award category sponsored by booost, the loyalty, gifting and promotions app.
The judges will be looking for evidence of:
Specific innovation to combat the impact of COVID-19
Safety of staff and customers was maintained
How the business diversified to maintain trading
If the shop was enfroced to close what strategies were adopted to continue trading
Plans put in place to retain communications with the local community
Initiatives to reach a new customer base
Take a look at competition entry guidance here.
Meet the Innovators
"Independents have a uniquely open and giving support structure almost hardwired in their DNA - that's what makes us special."- Adam Jacobs of Jacobs the Jewellers.
Our 'Meet the Innovators' series highlights some of the small shops that overcame adversity in the form of the COVID-19 crisis and did something special during this difficult time from a variety of sectors.
Meet the COVID-19 Innovators now
The new COVID-19 Innovation category is sponsored by booost, the loyalty, gifting and promotions app.


Who can enter?
To enter the competition shops needed to:
Be an independent retailer, defined as a non-corporate business selling goods or services to the
public for use or consumption rather than for resale, from a business rated, bricks and mortar premises in the UK

To have a listing on the Indie Retail directory. If you don't already have a listing you can create one for free here
Please note: Each Competition entry is for one retail outlet only e.g. not a chain of outlets. Only one entry is allowed per business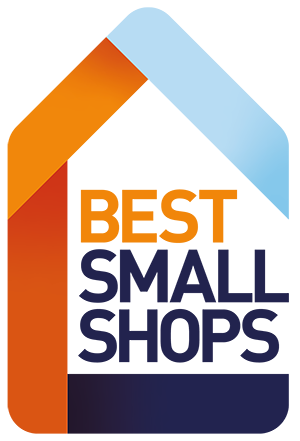 Best Small Shops competition 2020 shortlist
Due to the high number of excellent quality entrants this year there has been a total of 30 shops announced in the running to be named Winner, Runner Up or Most Innovative Business During COVID-19.
The shortlisted shops for 2020 are:
A G Hendy & Co, a homeware shop in Hastings, which offers practical plastic free, eco-friendly goods for the home.
Art In The Mill, a contemporary and independent art gallery in Knaresborough, Yorkshire.
Books At The Dragon's Garden, an appointment only bookshop in Llanwrda, Carmarthenshire.
Brecon Chocolates, which stocks a large range of handmade onsite chocolates and truffles as well as its own range of dairy free, gluten free chocolates.
Cawthornes, a family business in Nuneaton that has been trading since 1868, which supplies print, graphic design, office supplies and promotional gifts.
Cornucopia, a family run, independent, home and gift shop in Worcester.
Elmy Cycles, an independent bicycle retailer in Ipswich, which remained open from the first day of lockdown in March, adapting and changing its business as it went along.

Fillfull, a plastic free shop in Ottery St Mary, East Devon, where you can buy refills and eco products for your zero waste journey.
Grace's Bakery, a three generation family bakery in Ryde, Isle of Wight, which was established by the Redrup family in 1997.
Griffin Books, an independent bookshop in Penarth, which offers a range of fiction and non-fiction titles for adults and children, alongside maps, greeting cards and gifts.
Mr B's Emporium Of Reading Delights, an innovative bookshop in the heart of Bath, which has built its business around book recommendations.
Naked Pantry & Naked Quench, the New Forest's first and only Zero Waste plastic free groceries & coffee shop in New Milton.
Newton Farm Shop & Café at Newton St Loe on the outskirts of Bath, which has developed from a butcher's counter to a well-stocked shop and award-winning cafe serving home-reared meat from the farm.
Nourish of Topsham, an ethical, packaging-free, zero waste provisions shop in Topsham, near Exeter.
Oberon Clothing & Accessories, a ladies clothing, jewellery and accessories boutique in the heart of Shrewsbury.
The Pangbourne Cheese Shop in Pangbourne, near Reading, which offers around 130 local, British and continental cheeses, mostly from small artisan producers.
Pennine Cycles, an independent cycle shop in Bradford, which specialises in road bikes but sells all bikes including children's, hybrids and BMXs as well as cycling accessories and apparel.
Recycle York, a cycle shop in York, which buys, sells and repairs bicycles as well as refurbishing bikes for a fraction of the cost of a new one.
Richardson's Of Whitehaven, an independent wine merchant and coffee roaster in Whitehaven, Cumbria.
Ruby and the Angel, a gift shop in Debenham, near Stowmarket, Suffolk, which offers a range including jewellery, scarves, handbags and cards.
Shed 1 Distillery, an award-winning gin shop and distillery in Ulverston, Cumbria, which offers gin gifts, artisan gin and handmade local gin distilled in the Lake District.
Small Stuff UK, a children's shop in Sheffield, which specialises in ethical and eco-conscious lifestyle products and clothing for small children.
Soak Southwell, a bath products shop in Southwell, near Nottingham, which offers high quality, handmade, vegan friendly, plastic free bathing products.
Sophie Sews, a soft furnishing shop in Horsell near Woking, which creates bespoke curtains, blinds and soft furnishings for clients.
Sound Records, a record shop in Stroud, which sells the best records of all genres from rock, jazz and funk to Latin, African and hip hop.
Stationery Supplies, a stationery shop in Marple, Cheshire, which one customer described as having "the most epic array of stationery and the loveliest owner".
Sweet Baby Cheezus, a cheesecake shop in Bramley, Leeds, which also tempts customers with cookies and brownies.
T.H. Burroughs, a family butcher and farm shop in Swindon, which was first established nearly eighty years ago and is now being managed by the family's third generation.
The Bead Shop in Nottingham, which stocks a large range of beading & jewellery making materials and a wide range of kits designed in-house.
Wild Thyme, an independent wholefood shop in Southsea, which is a worker co-operative, and which includes a juice bar and take-away counter.
You can find more information about all of the shortlisted shops, as well as every business who has entered the competition, on the Indie Retail directory raising customer awareness throughout the UK.

When posting on Facebook, Instagram and Twitter ensure you tag Indie Retail and use the hashtag #BestSmallShops for a chance to get reposted!
Click here for competition terms and conditions.
Previous awards receptions
Click on the links below to read more about previous awards receptions.
More details can be found on the Indie Retail Twitter, Facebook and Instagram pages.