TraffikFlo
TraffikFlo is an app-controlled window display sign that helps shops simply and effectively manage Social Distancing.
TraffikFlo increases foot traffic by letting customers know when the shop is open for business and safe to come in. The green light reassures window shoppers and passersby that you are not at capacity and they are welcome inside. The red light communicates to customers when you have reached your Social Distancing capacity.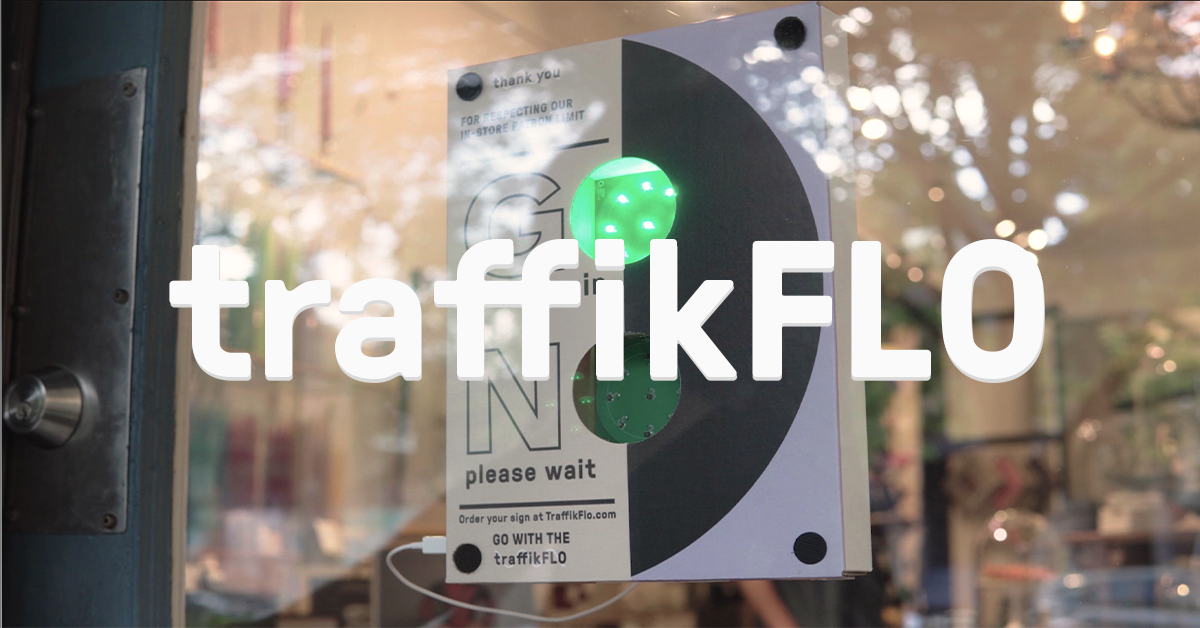 About TraffikFlo
The Social Distancing traffic management solution has arrived! The TraffikFlo app can be downloaded through either Google Play or the App Store and syncs via Bluetooth®. Alternatively, the sign can be controlled through the Chrome web browser at app.traffikflo.com. For added security, access is controlled through using a personal pin number.
The traffic light system can be run on either Manual or Counter Mode. Counter Mode allows you to input a max number of patrons within your store. As patrons enter, you add to the tally until the max number is reached, which will turn the display from green to red. As people leave, subtract from the total and the light will turn back to green. This is not an automatic system, but a useful alternative manual process.
This product is FCC and CE approved and further testing has been carried out to assure its safety.
For more information about TraffikFlo please visit www.TraffikFlo.com.
Pricing
Benefit from a 10% discount off TraffikFlo!
RRP is £99 but TraffikFlo is just £89.10 when purchased via Indie Retail. Complete the form below to get started.

Testimonials
"This brilliant sign helps our shoppers know when our store is at capacity, so we keep our numbers in the store safe for everyone shopping." - Katharine Tutko, MoonBeam Books
"We are trying to do the right thing and we know you are too! We have just installed a neat little system at our window that is simple yet effective." - Jacob Healy, Golden Gecko Coffee
"We have been looking for a way to keep our patrons safe while still enjoying their shopping experience. THANK YOU for this incredible invention!!!" - Christina Kotiadis, Lemon & Lavender
Additional Information

Product Size
Width: 10" (25.4 cm)
Height: 14" (35.56 cm)
Depth: 1.5" (3.81 cm)
Weight: 450g
Product Details

Sign is powered by a 2-meter AC/DC power cable:

Class II
5Vdc
500mA or so
Micro USB connector
NEMA 1-15P input connector
IEC 62368-1 certified (newest FCC standard)
UL/cUL certified
CE Certified
This device is also compatible with a power bank portable charger. Although not included, we recommend a charger which has:

Short-Circuit Protection
Overcharge and Over voltage Protection
Battery Level Indicator
REGISTER YOUR INTEREST
If you are a retailer interested in TraffikFlo, please complete the form below.
All fields marked * are compulsory